Tutorfly Zoom Integration
Overview
Tutorfly is a peer tutoring marketplace where students and parents of K-12 students can connect with qualified high school and university-aged tutors for effective and affordable 1:1 tutoring! You can connect your Zoom account to your Tutorfly account to host virtual lessons via your personal Zoom link!
Tutorfly shows an easy to enter button for all virtual sessions booked between clients and tutors on their respective Sessions dashboard. For each virtual lesson that you book on Tutorfly, you will have the option to hold the lesson with Tutorfly's Online Lessonspace or with your personal Zoom link. When Zoom is selected as the option to host the virtual lesson, the button shown on the session will open your personal Zoom link. With Tutorfly's Zoom integration, there is no more need to share your Zoom link with clients for each new session you create!
Prerequisite
•Free or Paid Zoom Account
•A Tutorfly Account
Installing the Zoom Integration
1. Login to your Tutorfly account.
2. Navigate to your Account Settings.
3. Click the Connect Zoom button on the Account Settings page.
4. Follow the steps on the Zoom Account Settings page to authorize Tutorfly to connect with your account.
Uninstalling the Zoom Integration
1. Login to your Zoom account and navigate to the Zoom marketplace.
2. Click Manage > Installed Apps.
3. Click the Tutorfly app.
4. Click Uninstall.
Using the Tutorfly Zoom Integration
When booking tutoring sessions, you will have the option to select your own Zoom conferencing room instead of Tutorfly's Lessonspace as seen in the picture below.
When you are booking your sessions, make sure to select the Zoom option. When your session shows up on your and your tutee/tutor's Sessions dashboard, the Join Zoom button will open your Zoom room.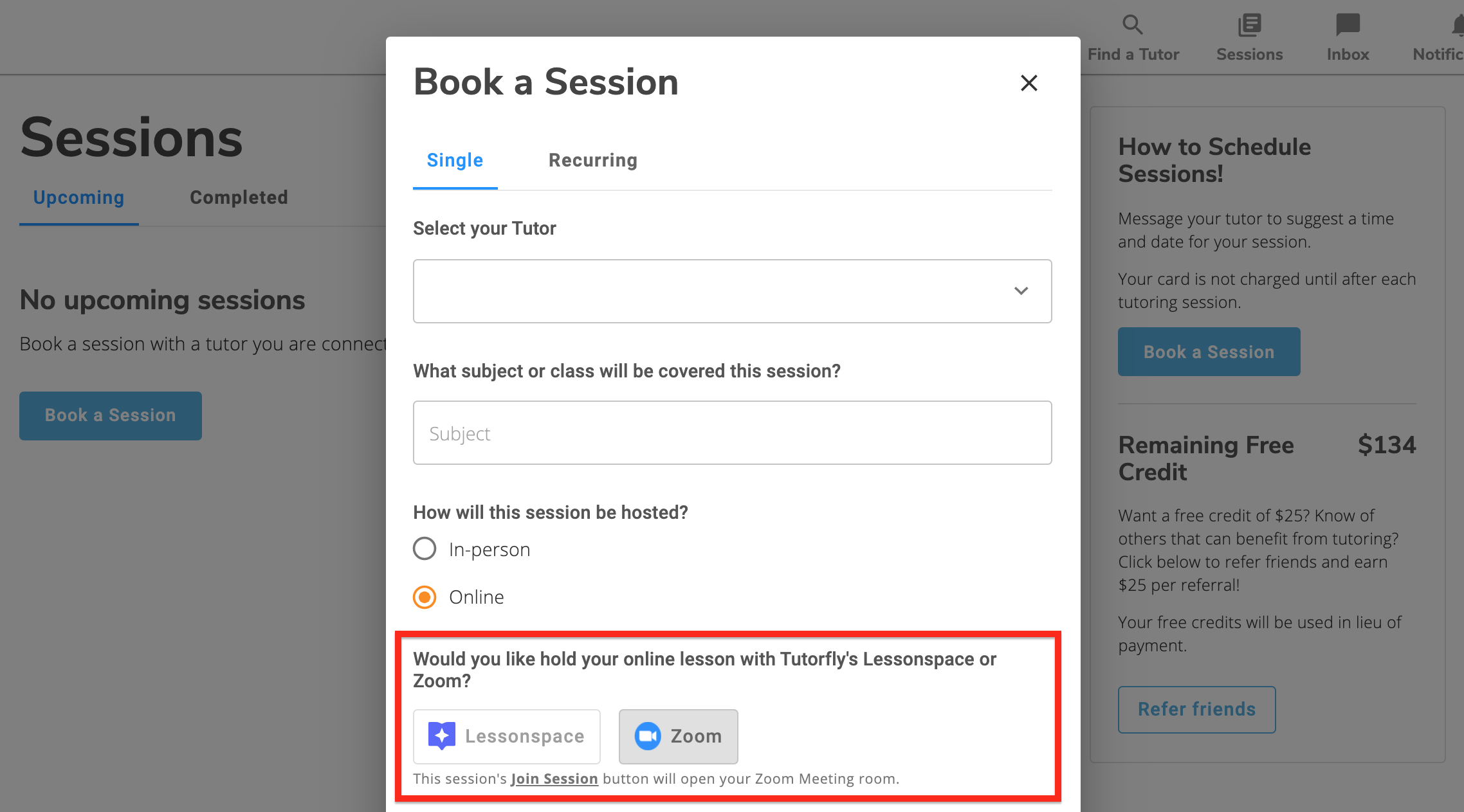 Contact Support
If you have any issues integrating your Zoom account with your Tutorfly account or booking sessions with Zoom, please feel free to email our team at [email protected].
We ensure that you will have a response from a Tutorfly team member within a maximum of 72 hours.